Court Rules over 800 year old Feudal Tax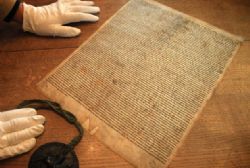 A Palma Judge has ruled in favour of a couple caught up in an 800 year old feudal tax claim imposed by a noblewoman in the area.
The couple, Xus and Beatriz, bought a property from Beatriz's brother-in-law, but the marchioness demanded the couple pay her a 2% tax on the property amounting to almost €2,000 in today's money.
The noblewoman claimed she was entitled to the tax because the land on which the property sits belonged to her ancestors and had been collected since the 13th century.
After reviewing ancient documents for the property and land, the couple discovered the tax expired FIVE years after the property was bought or sold.
According to the Judge who ruled in this case, the marchioness was attempting to claim the same tax on more than 1,000 other properties in the area.
The case further highlights the importance of conducting appropriate land registry and legal checks when buying property in Spain in addition to a full survey by appropriately qualified and insured surveyors.
Likewise, there are measures to avoid certain taxes in Spain if you own property and other assets in Spain. Wincham International are fully licensed and accredited tax consultants in Spain who can guide you through the legislation.