Gibraltar Visitors 44% Down on 2012, Queues 2 Hours Longer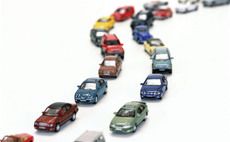 Spanish checks at the border with Gibraltar provoked so many complaints that the European Commission was forced to send a team of inspectors to investigate the situation in September. However, the Commission found no evidence that Spain had infringed rules on border controls. But it has demanded better management of the controls.
According to recently published data from the Borders and Coastguard Agency, the number of non-Gibraltar registered vehicles entering Gibraltar in October 2013 suffered a 26% reduction from the same time last year.
November's data reveals a 44% fall in visitors from 2012 to 2013, however, data shows that less people are visiting Gibraltar, but that the queues are significantly longer.
In November 2013, queues at peak times were 2 hours longer than in 2012 despite there being 24% less vehicles. In October 2013, 100% checks were frequently carried out and queues reached up to two and a half hours long.
The number of Gibraltarians crossing the border has also seen significant reductions. In October the number of 'G' plate vehicles crossing the border had decreased by 56% from 2012, whilst November saw a 15% reduction from the previous year.
Meanwhile Spain is promising to step up controls at the border if they deem these necessary, the PP government has said. Responding to questions last week from an opposition MP the Spanish government's reply was that increased checks at customs and on documentation are not being ruled out and are considered "especially necessary".
The Madrid position is that the 'right' to make strict controls will not be given up and those they are a Schengen requirement. The remarks come just days after the letter from the European Commission, calling for better fluidity through proper management of the border, was released. These also reflected the statement made by the Commission in response to complainants.
Madrid said that with Gibraltar outside Schengen checks must be made on "people, vehicles and goods." They attributed the need for the measures to what they claim is a 213% increase in tobacco seizures at the border between 2010 and 2012. But they add that they will comply strictly with European laws and norms.
In what could be an anticipation of things to come Spanish Civil Guards teams in black suits and berets were individually checking the purses of women crossing the border into Gibraltar and asking them how much money they had on them.
Read the timeline of the ongoing conflict over Gibraltar by clicking the link > HERE <