Spain to propose tax cuts for companies and employees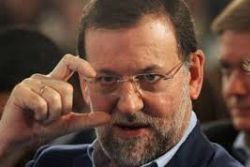 Spain will propose tax cuts for workers and companies as part of a fiscal reform due to be unveiled on Friday aimed at boosting the nascent economic recovery, according to a source close to the Treasury Ministry.
The expected bill is PM Mariano Rajoy's main structural reform this year and will include reducing tax breaks to widen a tax base that generates one of the lowest revenue takes in Europe.
By cutting taxes at the same time Rajoy is betting that will help boost cash-straped consumers' finances and that economic growth will boost tax revenues, but the plan has been roundly criticised by unions and economists.
The government will propose cutting the lower and upper levels of income tax, while also reducing corporate rates for large companies to 25% from 30% over the next 2 years, the source said.
"The reform will be implemented in two tranches depending on how the economic recovery evolves over the next few years," the source said.
Unions say tax cuts are merely a populist measure ahead of elections next year while some economists say economic growth is not yet strong enough to justify tax cuts and the move risks hurting the government's ability to meet its budget deficit targets.
Spain has been in and out of recession since a 2008 property crash which has left one in four workers unemployed and has put thousands of companies out of business.
The burst housing bubble sent revenues from the once lucrative construction and real estate sectors tumbling and helped push the public deficit to near-unsustainable levels.
Over the last 3 years, the government has passed a slew of unpopular tax hikes and deep spending cuts to bring down the public shortfall and convince nervous financial markets it can control its finances.
Rather than directly increase the country's tax revenue, which fell to 36.4% of economic output in 2012, the latest reform aims to widen the tax base by reducing available tax breaks and make the most of the economic turnaround, the government has said.
With Rajoy facing voters next year, and his conservative Partido Popular suffering tumbling support in the polls after years of austerity measures, the reform has been slammed by some as political opportunism which could backfire.
"The fiscal reform is based on a scenario of strengthening economic recovery, of which we have serious doubts," the head of Spain's second-largest union UGT, Candido Mendez said this week.
Spain's economy is forecast to grow 1.2% this year after shrinking, or stagnating, since 2009 and the government has targeted a deficit of below 3% of output by 2016 from 6.6% of GDP in 2013.
The Bank of Spain reiterated calls this week to increase consumer taxes such as value-added tax (VAT) to boost cash flow into government coffers, but the government has said it won't raise VAT further after a 2012 hike.
The fiscal reform proposal will limit VAT hikes to health products, as dictated by Brussels. It will advocate raising VAT on health products to 21% from 10% currently. It will also cut tax payable on income from savings, the source said, but did not give details of what this would involve.
Recommended Reading :
* Spain's taxes will come down "Gradually" : Rajoy