Scottish Independence Vote Registration Looms, Expats Nervous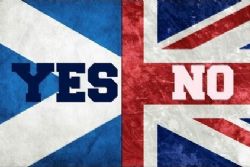 Eligible voters in the upcoming Scottish Independence Referendum later this month have until mid-night tonight to register their desire to vote.
However Scottish expats living in Spain, who were denied the right to vote by the Scottish Government, anxiously await their fate in an independence referendum which could see Scotland lose EU membership and "theoretically" make thousands of Scottish expats illegal immigrants.
Nationalist SNP leader Alex Salmond has said that Scotland will have no issues with automatic EU membership on the basis that Scotland is rich in natural resources, however automatic entry into the EU club would be subject to a vote by all current member states and the nationalists appear to be over looking an important key factor in that decision – Spain.
Spain, itself rich in natural resources and with an established international network of Spanish companies supplying it's energy needs, has said "Spain will not interfere in Scotland's quest for independence and potential entry to the EU" - Spanish Foreign Affairs Minister, Jose Manuel Margallo speaking to the Financial Times in February - however Spain has thus far refused to comment on whether it would veto Scotland's automatic EU entry ambitions.
Many EU policy experts believe Spain would veto automatic EU entry to serve as a warning for its own separatist regions of Catalonia and the Basque Country.
Belgium and several other EU states who also have regions with independence aspirations are also expected to follow suit and insist Scotland formally applies just like any other country wishing to join the EU – A process which takes a minimum of 5 years to complete.
Ruairi Quinn, an Irish politician and respected former president of the EU's Ecofin Council said last week that Spain "will not want to create the precedent" of a region "deciding to leave and join the EU in their own right" given the secessionist movements in Catalonia and the Basque Country.
Spain is also well placed to potentially dampen or even block an independent Scotland's access to EU and global financial markets.
Spain is currently seeking election to the UN Security Council whilst Spanish Finance Minister Luis de Guindos looks increasingly likely to be appointed as the next head of the EU's finance ministers committee. A huge role with massive influence.
German Chancellor Angela Merkel has given her support to de Guindos' candidacy, the forerunner for the coveted position; and has previously stated she supports Spain's stance against independence of Catalonia and the Basque Country from Spain.
As the campaign rhetoric for and against Scottish independence raises in tone, it's clear that emotion is a major factor in how people will vote. Depending on which way the vote goes, many Scottish expats may see their ancestral dreams of independence backfire against them.
It is important to stress that Tumbit remains neutral on the subject of Scottish independence, however we do recommend that Scottish expats living in Spain seek independent legal advice from suitably qualified lawyers on Spanish and EU laws regarding their status in Spain should Scotland choose independence.