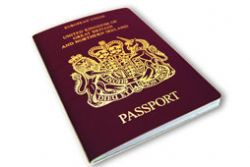 Renewal of your UK Passport
If you need to renew your passport, you have two options at varying costs:
1. Go to your local Consular Agent or to the main Consular office in Your Province. English and several languages are generally spoken. You must take 4 passport sized photographs, your current passport and then you will be supplied with an application form which must be completed in thier presence and then countersigned and officially stamped .The forms are then sent together with your old passport and renewal fee (aprox €91 per person) to the Madrid Embassy address named on the application form. If you do this yourself it is advisable to send the envelope as "Correo Certificado" at the Post Office.
2. When in England go to any Post Office and obtain Passport Renewal forms, complete as described on the forms and give them over the counter together with 2 photographs, your old passport and £33 they will post the new passport to your stated address. (You have the option to pay an additional £5, where they will check that the form has been filled in correctly and guarantee to return the new passport within one week) - obviously this is only really an option when foresight and the ability to wait a week in the UK is on your side!
Replacing a Lost or Stolen Passport
The first thing to do on discovering that you have lost or had your Passport stolen is to Inform your Local Consulate Immediately. You must obtain a report from your local Police station veryfying that you have reported the loss, etc... This report must be taken with you when you attend the Consular office to apply for renewal. As with a normal renewal you must follow the above general instructions re photographs etc. Costs are the same.
First Time Application
If your Child is born in Spain, and both parents are British Nationals and British Passport Holders it is possible for the Child to have a British Passport exactly the same as if your child was born in the UK. The UK Consular Office in Spain allows you to download the relevant application forms online which will guide you through the process in English and usually be able to send you the Passport to your address in Spain, by courier within 4 Weeks.
Take Photocopies of your New Passport when it Arrives!
Since 2007 the Foreign Office has been gradually phasing in new procedures for British Expats applying for a Passport from overseas.
The changes were brought in 5 phases over a 5 year period, and as such it is understandable that there has been a lot of conflicting information on the web as to how to make your application. The truth is that much of the information was probablly both correct and incorrect - depending upon the time it was written and read.
Currently (2013) the procedures are as described above, however, at some time before 2014 the application and passport issuance for expats will be handled by 1 of 7 of the Foreign Office Identity and Passport Service (IPS) Offices situated around the World.
Changes will be made in due course, so applicants are advised to check the website of the UK Embassy in Spain for up to date information.
In the meantime, the Youtube video clip explains the changes in more detail