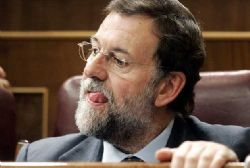 Yesterday's comments to the press by the Regional President of Madrid regarding the introduction of tolls on a number of the region's roads have been denied by the PM.
Esperanza Aguirre spoke of the proposal to introduce tolls on a number of roads around the capital as the region could not afford to pay the 30 Million Euro per year fee for their maintenance.
The Mayor of the City of Madrid, Ana Botella, is also in favour of the introduction of something similar to the congestion charge in central London, but would prefer not to introduce a toll on the city's motorways.
However, Prime Minister Mariano Rajoy denies that any such decision has been taken, and that the proposal has not been scheduled for discussion by the cabinet.
All three politicians are representatives of the Partido Popular (PP).