Spain Not Doing Enough to Clean Sunken Trawler Fuel Leakage - Greenpeace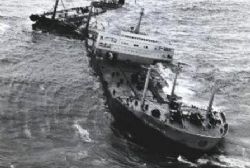 Oleg Naidenov trawler, with 1,400 metric tons of thick fuel oil, sank 15 nautical miles off the coast of the Canary Islands last Tuesday after catching fire over the weekend. The entire crew was rescued with no injuries reported.
"With only two ships collecting fuel this operation can waste too much time and not avoid the worst impacts of the spill on wildlife or its coming to the coast," Greenpeace said.
Currently Spain's Maritime Security and Rescue Society operates two multipurpose vessels Miguel de Cervantes y Luz de Mar, capable of collecting fuel (each of them can collect up to 290 cubic meters of spill).
According to the organization, a slick, visible from space as confirmed by NASA satellite images, occupies at least 70 kilometers (43.5 miles) and can potentially endanger the important population of cetaceans and sea turtles that abound in the area at this time of year.
Last week, a slick emanating from the shipwreck, on an image shown by Spanish National Television, was about 6 kilometers (3.7 miles) long.
Recommended Reading :
* Spain investigates sinking of fuel laden ship off Canary Islands
* 75% of Canary Islanders oppose oil exploration