Retired Expats Must Prove They Are Not Dead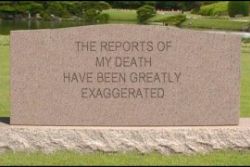 There are an estimated 5 million Brits living overseas at the time of writing, many of these as retirees claiming a UK pension. The problem that the Department of Work and Pensions in the UK has is figuring out whether retirees are still legitimately entitled to their pension or not, especially in cases where countries do not openly share information with others.
It has been estimated that £45 million a year is paid out to expats who have retired overseas and passed away, yet whose family are still cashing the pension cheques which should have ceased at the time of death.
In countries where deceased individuals are openly reported to their country of origin, this is rarely a problem. However in the case of countries like France who refuse to share information with other countries, it can be difficult for the DWP to know whether or not the pensions being claimed are legitimate or not.
In an attempt to cut this unwarranted spending on fraudulent pension payments, the UK government has introduced a policy requiring pension-drawing expats to prove that they are still alive.
In essence, any British expat drawing a UK pension is soon to be sent a form which they must sign to prove they are alive, which must be witnessed by others. The forms are only available in paper format and will be sent out to the registered address of these individuals. No electronic versions are being made available due to concerns over the security of such media.
The fully completed form must then be returned to the UK government in due time or risk having youension cut off. Those individuals who either fail to return their form, or whose form gets lost in the post, could be in for a nasty surprise as their pension benefits are unceremoniously stopped.
This is not the first time that the British government has risked ostracizing expat retires; earlier on this year we also reported how fuel subsidies are to be stopped for expats in some countries, and the questionable way in which the calculations were actually carried out.
That said, while the form may be a minor annoyance to some people, those legitimately entitled to a state pension should find they have little problem continuing to receive their money, and it is an exercise that can be very beneficial for the UK tax payer, allowing millions of pounds to be filtered into other projects back home.
Overseas retirees are advised to keep an eye out for such forms, lest they either get lost en route or the government inadvertently sends the form to an incorrect address.
Recommended Reading :
* 15 Million plus Expats contribute to Spain's social security
* Change to UK capital gain tax for non-residents