First Tourists Arrive at Spain's Castellon Airport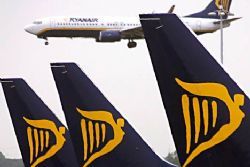 Ryanair today touched down at Spain's ghost airport of Castellón - which welcomed its first commercial flight since opening in 2011.
Flight FR8555 arrived at the infamous eastern hub, which cost €150 million to construct and has remained empty for four and a half years, at 10:26 a.m. local time.
It was 14 minutes early.
The aircraft and the virgin runway it landed on were "blessed" with water cannons, as crowds of workers cheered the arrival.
The plane, which had travelled from London's Stansted Airport, departed to return to the English capital at 11:10 a.m.
Ryanair is to fly three times a week to the airport from London Stansted, and is also set to launch a twice weekly service between Castellón and Bristol.
The arrival of today's flight is historic, as many believed that the airport would be better off being converted into a race track or shopping mall.
It was opened to much fanfare in March 2011, but despite a €30 million publicity campaign, no airline operators were interested in flying there.
The airport came to symbolise the huge amounts of money spent by the Spanish government on "white elephant" projects.
It also failed to get permits to allow planes to land because the airstrip was too narrow. It later had to be dug up and widened.
Ryanair struck a deal to fly to and from the airport earlier this year. It's hoped that other operators will follow.
Castellón Airport is also infamous in Spain due to the jailing of Carlos Fabra, the former regional president of the PP political party, for tax fraud.
Recommended Reading :
* Brussels to investigte subsidies at Castellon Airport
* Ryanair launches routes from Castellon airport to Bristol & Stansted