Ryanair lauches routes from Castellon Airport to Bristol & Stansted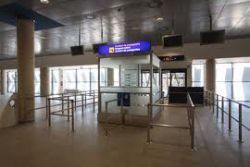 Ryanair is to start offering flights from Castellón's infamous unused "ghost" airport to London Stansted and Bristol from September.
The new routes will make the Irish low-cost operator the first airline to offer regular services from the facility – notorious for not seeing a single plane land or take off there in its first three years of existence.
Tickets will go on sale on Thursday priced from €31.99 for flights between September 15 – or September 16 in the case of Bristol – and December 10. Customers will be able to reserve flights up to March 16, 2016.
According to company representative Luis Fernández-Mellado, Ryanair had opted for two UK destinations to begin its services from the new airport because British tourists were "a guarantee of success." "The British market is very consolidated. It is the safest bet for the beginning," he told a press conference called to announce the new routes in Castellón on Wednesday.
Regional tourism chief Daniel Marco highlighted that the UK was the biggest source of foreign tourists to the Valencia region with a 35-percent share. In Castellón, however, that proportion is currently 10 percent. "We are convinced that it will grow with the airport," he said.
Castellón provincial authority chief Javier Moliner said the deal "did not involve economic compensation for the provincial authority nor the Valencia regional government."
Mellado noted several times that the agreement Ryanair had reached with the airport's manager, SNC-Lavalin, was "confidential." He also highlighted the "commitment" of the local governments to working to improve tourism in the province.
He explained that the advantage of Castellón was that it was not part of the AENA Spanish airport authority's network and so offered "pricing freedom" in terms of operating taxes. It would cost between €8 and €10 to land at the new airport – around half of what it costs at nearby Valencia – he said.
"We are not going suffer tax hikes as has happened at other airports," he noted, adding that Ryanair had a guarantee that levies would not be changed for at least five years.
Ryanair is predicting the two new routes will grow to attract 60,000 passengers a year, though it declined to comment on whether it might pull out if it failed to reach that figure. "You cannot say whether it will profitable in one or two years," Mellado said.
Recommended Reading :
* Ryanair : "No interest in flying to Castellon Airport"
* Air Europa interested in flying to Castellon Airport