Spain's new parties gain ground ahead of election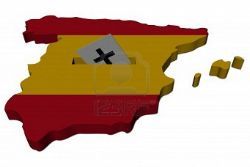 Spain's new political forces Podemos and Ciudadanos have gained ground ahead of a general election on Dec. 20, a poll showed on Sunday, sapping support for mainstream parties and reinforcing expectations that no one party will manage to win a majority.
The governing centre-right People's Party (PP) is widely expected to win the election, though with far less backing than it garnered four years ago as the vote becomes a four-way race.
Over recent decades two parties - the PP and the opposition Socialists (PSOE) - have alternated power, but a crushing economic crisis marked by soaring unemployment has broken their dominance, as many voters seek out alternatives.
The PP would win the election with 28.3 percent support, a GAD3 poll published in the conservative ABC newspaper showed, giving it between 117 and 124 seats in the 350-seat parliament.
That was slightly up from the 28.2 percent support it got in a GAD3 poll on Dec. 7, though backing for the party has slipped since late November. It won an absolute majority in 2011, but unpopular austerity measures and corruption scandals have eroded its support, even as the economy improves and jobs return.
Ciudadanos, a centrist, market-friendly party that has taken votes from the PP and the Socialists, is seen grabbing 18.1% of the vote - or 59 to 63 seats - compared with 17.9 percent on Dec. 7.
Leftist Podemos, meanwhile, an anti-austerity party founded barely two years ago, would get 17.6% of the vote, or 50 to 53 seats, up from 16.6 percent last time.
Gains for these two parties have squeezed the Socialists, with their backing falling to 21.2%, or 83 to 85 seats, from 21.5% on Dec. 7.
Ciudadanos, lead by telegenic 36-year-old Albert Rivera, is increasingly being painted as the kingmaker party, and is expected to do particularly well in regions that were previously PP bastions, such as Madrid and Valencia, a separate poll by Sigma Dos in El Mundo newspaper showed.
Podemos should also garner strong support in Madrid, according to that poll, leaving the Socialists trailing in 4th place there.
The last week of campaigning could yet lead to surprises. 1 in 3 people either refused to give their preference, were undecided or planned to abstain, an official poll showed recently.
On Monday, PM Mariano Rajoy will go head to head with Socialist leader Pedro Sanchez in his first appearance in a televised debate, having shunned previous ones.
Recommended Reading :
* Rajoy suggests there could be a surprise on December 20th
* Spanish politicians get personal to convince undecided voters