EU Fires Warning Shot At Spain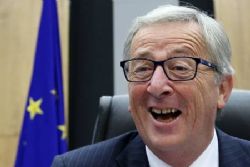 EU Commission head, Jean Claude Juncker has fired a warning shot at Spain to get its deficit under control or face EU funding sanctions.
The warning came to light after the minutes from a meeting held in July were published, in which bureaucrats were discussing a concerted approach to tackling the fiscal breaches by Spain and Portugal.
Both Spain and Portugal escaped fines for not meeting their agreed fiscal deficit and debt targets in 2014 and 2015. The fines could have been as much as €2bn for Spain and €300m for Portugal.
The commission decided against imposing a fine, widely accepted that they feared a backlash against the EU project at a time when popularity in the EU is waning and coming hot on the tail of the UK's decision to leave, aka. Brexit.
However, it is understood Jean Claude Juncker is keen to impose fines against Spain if the Spanish government fails to start undertaking measures to reduce the deficit in the second half of 2016.
Juncker is all too aware that relaxing rules for certain EU member states, in this case Spain, but most notably France, Italy and Germany for a variety of different breaches, sets a dangerous president for other EU members to breach the rules without fear of recriminations.
Under EU rules, member states must not have a deficit exceeding 3% of GDP - As of July, Spain's deficit stood at roughly 4.6%
Whilst a fine was not imposed, the commission must re-rule in late September or early October on whether to freeze EU funding to Spain. The funding freeze could amount to as much as €1.3bn.
The prospect of a freeze in EU funds was clearly stipulated by the commission in July, if Spain failed to meet key targets this year, the first being the creation of a deficit reduction strategy. Something it cannot do whilst there is no official government in office.
Spain has had a caretaker government since December 2015 after TWO inconclusive general elections failed to yield a national government. Spaniards are set to go to the polls again in December 2016.
However, despite the political turmoil, on paper, Spain appears to be doing quite well as an economy with GDP continuing to rise year on year. The country is often hailed as a success story within the EU and a model for others to emulate.
Yet worryingly, the success story begins to fall apart when you take into consideration the deficit, government debt, unemployment still exceeding 20%, employees having to take up self-employed status with employers and indefinite 3-month temporary work contracts for others.
Even the banking bailout in 2010 of more than €100bn has nowhere near been repaid. As little as 5% has been recovered to date and do not expect to recover it all, whilst banking institutions are struggling to keep their heads above water at a time when the global economy is showing signs of another global downturn.
Under all these circumstances and waning public support for the EU, there appears to be little appetite to sanction Spain amongst other EU officials, especially at time when Spain has no government and can do very little about it.