Ex-SAS Tackle Terror Threat to Brits in Spain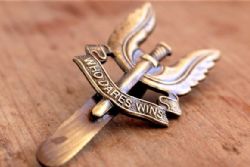 Ex-SAS and Special Forces troops are being sent to Spain's tourist hotspots over fears terror group ISIS could target British tourists.
Over the last few years there has been increasing terror threats from ISIS made against Spain with this year being no exception.
Spain is a popular destination for Brits seeking sun, sea and sangria as well as a well deserved break from the mundane rat-race of the UK, as well as many more tourists from around the globe.
According to a report in the online version of the Daily Express, the elite ex-soldiers are set to patrol beaches and hotel grounds, undercover in plain clothes, in an effort to protect Brits abroad.
Intelligence reports have indicated ISIS could be planning a Tunisia style attack in which 30 British holidaymakers were gunned down by a "loan wolf" jihadist in 2015.
With security in the UK at an all-time high following the devastating suicide attack by Salman Abedi in Manchester, shortly after an Ariana Grande concert in which 22 people died and a further 50 were injured, British tourists lying in the sun are considered extremely "soft targets".
It is understood the ex-service personnel have been contracted by tour operators wanting to hire teams of surveillance experts to gather intelligence and identify potential threats.
It is believed they will be equipped with hidden cameras in an effort to record the actions of individuals as well as help in identifying terror suspects using facial recognition technology.
They will not be armed and have been issued with strict rules of engagement. They must not intervene, but instead will be given points of contact in the Spanish police to report any findings or concerns. Spanish law enforcement agencies will make any arrests.
Spain is seen as a prime target this summer which attracts around 12 million British tourists a year, according to security experts.
The Costa Blanca, Costa del Sol, Balearic Islands (including Ibiza) as well as the Canary Islands are widely accepted as potential strike points.
It is not clear which tour or hotel operators have engaged these security services and in which parts of Spain.
Whilst there is no specific intelligence of an imminent terror attack, visitors to Spain are encouraged to remain vigilant and report anything suspicious to the police, hotel or tour operator representatives immediately.