Spain's Balearic Islands to fine illegal tourist rentals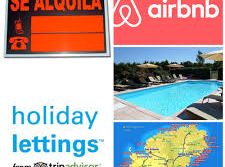 Spain's Balearic Islands will from Tuesday penalize landlords for illegally renting apartments to tourists with fines of up to 40,000 euros amid a backlash against the effects of mass tourism across the country.
The move is an escalation in efforts to crack down on home-sharing sites such as Airbnb by city councils or local authorities in Spain, as concern mounts over the side-effects of their increasing popularity.
Airbnb, much like ride-hailing firm Uber, is facing a crackdown from legislators worldwide triggered in part by lobbying from the hotel industry which sees the rental service as unfair competition.
In the Balearic Islands, which drew more foreign visitors than any other region in Spain this June, rental costs have jumped and there are fears of a housing shortage for residents.
Rental prices in Palma de Mallorca, the Mediterranean archipelago's biggest city, have risen 40% in the last 5 years, according to property platform Mitula.
The island of Ibiza has the biggest density of Airbnb rentals, with a tourist apartment for every 30 residents, data from analytics firm Airdna showed.
Renting apartments without a licence was banned in the region in 2012 under a previous administration but enforcement was largely nonexistent, according to the Balearic government.
"We want balanced and sustainable tourism so that it can keep being our lead economic activity for many years to come," the region's tourism chief Biel Barcelo told Reuters.
The new legislation establishes fines of between 20,000 and 40,000 euros for those offering short rentals without a license to tourists.
Local residents will be able to report suspected illegal flats though a website, and online platforms such as Airbnb and Homeaway could also face fines of up to 400,000 euros if they are found to advertise rentals without a license number.
The Balearics' four islands will each have a year to decide if and where they will allow licensed tourist rentals to continue.
Airbnb said the new rules were complex and confusing as they did not distinguish between local families sharing their homes and professional operators running a business. It said it was ready to collaborate with the local authorities on establishing clearer regulation.
"By working together, we can help build sustainable tourism models that spread benefits to many - not keep them in the hands of a few," the firm said in an emailed statement.
Barcelona, in the northeastern Spanish region of Catalonia and another tourism magnet, has also introduced controls on tourist apartments and sought to fine Airbnb and Homeaway for advertising ones that are unlicensed.
Recommended Reading :
* Spain vacation rentals offering more beds than Hotels for the first time
* Spain's new real estate boom : The Rental market