Spain Plans to Revamp Private Pensions to Lure Younger Savers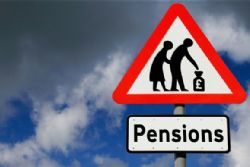 The Spanish government will introduce new rules to encourage young people to invest in private pension plans in a bid to shore up retirement savings.
The new regulations will reduce management fees and give savers the option of withdrawing funds after 10 years, an Economy Ministry official said. The plan will be applied retroactively starting from 2015, so savers could retrieve their pension pot come 2025, the official said.
The government believes the option to give savers access to their funds sooner will prove attractive for younger workers who may worry about not having access their money for decades under existing rules, the official said. The administration aims to get the plan approved by the cabinet within the next 6 months.
Spain is taking steps to promote private retirement saving as an aging populating and stalling birth rate puts pressure on the public pensions system.
Savings accumulated in individual pension plans in Spain add up to 6.3% of GDP, according to industry body Inverco. While the amount has risen slightly over the past 2 years coinciding with an improving jobs market, itís well short of the average 37% average for Organization for Economic Co-operation and Development members.
Recommended Reading :
* Spain to spend EU450 Mln on youth wage subsidies
* Despite economic growth, Spain's younger workers see salaries fall