Spain : 3.4 mn unemployed in December, best data in 8 years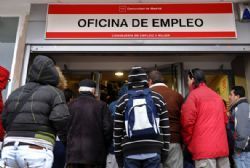 The number of unemployed workers in Spain in December declined by 61,500 people for a total of 3,412,781, the lowest over the last eight years, according to data published Wednesday by the Spanish labor ministry.
The year 2017 ended with 290,193 fewer unemployed people compared to 2016 and 1,627,441 fewer jobless workers from February 2013, when the economic crisis had the most severe impact on employment.
According to the data, a total of 21.5 million contracts were signed in 2017, including 19.5 million that were short-term, a sign according to unions that instability has risen.
The number of workers with social security in December grew 0.23% from the previous month with 42,444 people while on an annual basis a total of 18,460,201 people were registered with an increase in 2017 of 611,146 workers from the previous year.
Recommended Reading :
* Spain's November jobless rises by 0.21% M-M to 3.47 million people
* Spain's Q3 unemployment rate falls to lowest since 2008