Paramount to have 90 Pct Tax exemption for 3 Years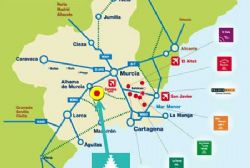 When opened, the Paramount Pictures theme park at Alhama de Murcia will be largest of its kind in Spain, providing a total of 26'000 new jobs.
It is projected to have an impact of 535 million euros per year to the regional economy and contribute around 2 to 3% to the regional GDP and bring in over 3 million visitors a year to the area.
Over 1,000 million euros of investment is being provided by Great projects Murcianos Region (Premursa), of which 80% contribute capital Santa Monica Financial Services, owned by Jesus Samper. The remaining 20% being contributed by regional public bodies and the regional tourist board.
Earlier this year Premursa bought purchased 15 farms in Alhama de Murcia, covering some 1,716 million square meters for a combined 15 Million Euros, as the intended site for the theme park.
The region of Murcia as suffered as much as it neighbour – Valencia – following the burst of the property bubble, leaving an unemployment rate of 25% - above the national average – and around 30'000 unsold properties. This glut of properties in a relatively small region has resulted in there being a number of virtual ghost towns, often set around golf complexes, which investors – including the region's Cajamurcia bank – have pulled away from.
The regional President Ramón Luis Valcárcel and Minister of Tourism, Pedro Alberto Cruz, have studied the shortcomings of other theme parks in Spain - notably Terra Mitica (Benidorm, Alicante), Warner in Madrid, and Port Aventura in Tarragona, to enable Paramount to learn from their mistakes. None of the parks achieve close to the three million annual visitors estimated for Paramount and their economic performance is unimpressive. One thing that the park has put forward as being key to attracting 'year-round' visitors is their lifestyle centre, which will offer facilities for business delegates, exhibitions and conferences.
Last weekend the mayor of Alhama, Fernando Alfonso Cerón Morales, signed off the planning agreement, which was key to the project going ahead, coming just two days ahead of the official presentation in Madrid.