Gibraltar and Spanish Police boats collide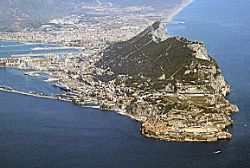 Two water launches collided in the Bay of Algeciras yesterday.
A smaller, high speed launch from the Royal Gibraltar Police and a larger boat from the Spanish Guardia Civil were involved in the collision whilst in pursuit of a suspected gang of drug smugglers off the coast of Gibraltar.
The chase began in Gibraltar waters but continued into Spanish waters, where the collision occurred, injuring the three officers in the smaller boat. The injured officers had to be rescued by the Spanish officers and taken to shore, where two remain in the Punta de Europa Hospital in Algeciras and a third was returned to the rock in an Ambulance.