Spain unemployment 7.55 pct up on 2010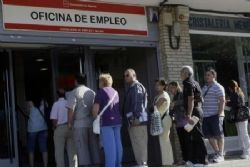 The first information bulletin released by the Ministry of Labour since the Partido Popular was voted into office has revealed how an additional 59´536 Spaniards applied for state unemployment benefits during the month of November.
This increase now means that the total number of residents claiming the benefits currently stands at 4´420´462.
However, the number of people `claiming unemployment benefit´ should not be confused with the actual number of those who are actually unemployed given the relatively high number of Autonomo (self-employed) people in Spain who have found themselves without an income, the high number of those working `in the black´ and others who may may ineligible to claim state benefits.
During October, the jobless figure increased by 3.17% on September to reach a total of 4,360,926. Year-on-year, the registered unemployment increased by 310,168 people or 7.55%.
Spain's rate of unemployment now stands at a 15-year high of 21.5% - rising to almost 50% for the under 25 age group - the highest in the eurozone.
The Partido Popular´s new Prime Minister, Mariano Rajoy, is expected to be sworn into parliament on December 22nd and tackling the country´s rising unemployment, together with the wider issue of the struggling economy, will be a key test of his leadership.