Hike in regional income tax announced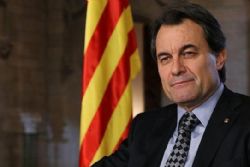 The most indebted regional government of Spain - the Generalitat Valenica has announced an increase in income taxes in order to raise €238 million.
The decision was taken at the first meeting of the new year, to introduce two new Tax brackets at €120,000 and €175,000.
The region is also adding 1cent onto every litre of petrol and diesel sold in the region to go towards paying for the region's healthcare budget. A spokesman from the National Treasury said that he was not in favour of the increase in taxation on petrol, but he understood it was justified in the current economic circumstances, and he noted too that professional drivers would be excluded. This measure alone is expected to net the Generalitate €98 million.
As far as Catalonia is concerned, the regional President, Artur Mas, has criticised the Minister of Economy's plans to control all regional budgets themselves. The CiU leader called the plan 'Intolerable' and reminded Luis de Guindos that the Spanish Constitution guaranteed the economic self management for the regions.
Furthermore, the Treasury Minister, Cristóbal Montoro, presented his plan to cabinet to rationalise a number of publically owned companies as a meands of saving costs by eliminating unnecessary levels administration and duplication of services.