Rajoy does not foresee IVA rate hike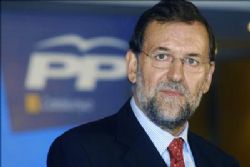 Spain's government does not plan to raise value-added tax, Prime Minister Mariano Rajoy said on Tuesday in his first interview since his government passed a slew of austerity measures, including tax hikes.
"We felt that the best for the economy was not to do it, and so we do not plan to raise value-added tax," Rajoy said during an interview with state news agency EFE.
The government has announced tax hikes of more than 6 billion euros a year and cost-cutting measures worth almost 9 billion euros to deflate a public deficit which it expects to have hit around 8 percent of GDP last year.
Rajoy also reiterated that his government was not considering the creation of a so-called "bad bank" to ringfence toxic assets acquired before the property bubble burst.
Instead, the government would implement a restructuring process before February 15 that looks at cleaning up the banks, improving transparency, and mergers, Rajoy said.
Economy Minister Luis de Guindos said in a Financial Times interview last week that instead of a "bad bank" he expected banks to set aside up to 50 billion euros in extra provisions as cushioning against potential losses from real estate assets.