Minister announces unemployment now stands at 24pct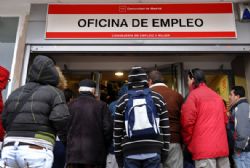 Earlier today Spain's Finance Minister, Cristobal Montoro, told the Congress Commission that the country's unemployment surged from 21.5% toalmost 24% in the final quarter of 2011.
The number of unemployed stood at 4.9 Million at the end of Q3, but grew to 5.4 Million by the end of the year.
Montoro also reminded the house that Spain "is in a recession phase, further lengthened by the financial crisis", which is harsher than in the rest of Europe, "due to credit crunch, the result of bank system's inability to react to the drop in the value of real estate assets".
Spain already has the highest unemployment rate in the 17-nation eurozone.
The economy is expected to fall back into recession over the first quarter of 2012 due to declines in GDP in the final quarter of 2011 and Q1 of 2012.