Greek Elections Bring Some Respite For Spain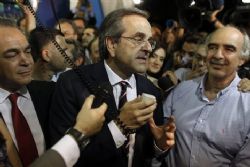 Over the weekend, Greek's went to polls again after the first round of voting failed to produce an outright winner or a coalition government.
All eyes were on Greece as hard pressed Greek's voted in their hoards, to finally put an end to the fear and bureaucracy surrounding the European partner.
Whilst no outright winner has emerged, it is likely a coalition can be formed with Greek President Karolas Papoulias and the New Democracy party who are pro-bailout.
Markets across the globe stood ready to act in the event the elections went in a different direction and struggling countries like Spain, Portugal, Ireland, Cyprus and Italy all took a breath or relief as an all out financial catastrophe for the Eurozone, Americas and Asia looked on the cards.
Details will be released later today on the success of negotiations with the New Democracy party.