Crimestoppers murder appeal spreads to Spain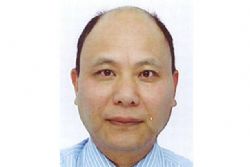 A fresh appeal for the public's help to locate Anxiang Du, wanted in connection with the brutal murder of Jifeng 'Jeff' Ding, his wife Ge 'Helen' Ding and their two teenage daughters in Northamptonshire last April, is launching today in Madrid.
DCI Tom Davies from Northamptonshire Police is calling on citizens to assist Crimestoppers and Law Enforcement agencies in the search for Du, who is believed to be hiding in northern Morocco, having travelled there from southern Spain.
On Friday 29 April 2011, Mr & Mrs Ding and their 2 daughters Xing, 18, and Alice, 12, were brutally murdered in their home in Northampton. The suspected murderer, Anxiang Du, 53, from Coventry, was declared the only suspect soon after the discovery of the murders and has since evaded capture.
Crimestoppers and Northamptonshire Police have a reward of up to £25,000 that leads to the arrest and conviction of the person responsible for this crime.
Martin Lawrence, of Northamptonshire Crimestoppers, said: "As a committee we have been incredibly active in trying to bring the individual/s responsible for this crime to justice.
"I would appeal to anyone, whether it's in Spain, Morocco or the UK, with information to contact Crimestoppers anonymously on 0800 555 111 from the UK or 900 555 111 from Spain – we only want what you know, not who you are."