Ibex Insurance - Insurance
Ibex Insurance Services Ltd is the leading international insurance provider in the Iberian Peninsula, specialising in cover for the expatriate market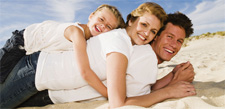 As the leading international insurance provider in the Iberian Peninsula, we've gained an incredible portfolio of delighted clients who rely on us to provide the assurance and support they need from their insurance policies.
With our excellent track record in customer service and value for money, we are thrilled to be able to offer our extensive experience and knowledge to Tumbit.com visitors!
So whatever your insurance requirements are, get in touch by filling out the form below and discover why IBex Insurance is the number 1 expat insurance provider in Spain!
Find out how Ibex Insurance can help you...
Home Buildings Insurance
Home Content Insurance
Motor Vehicle Insurance
Commerical Vehicle Insurance
Marine Insurance
Horse Riders Insurance
Pet Insurance (Medical)
Pet Insurance (Liability)
Travel Insurance
Wedding Insurance
Business Premesis Insurance
Business Liability Insurance
Term Life Insurance
Income Replacement Insurance

Business Development Manager

Marine Division General Manager