Spain debt costs to stay high in wake of austerity plan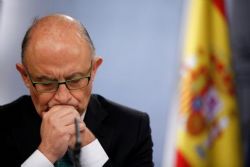 Spain's borrowing costs are likely to drop on Tuesday when it tests investor appetite for its debt for the first time since announcing more austerity last week, but not enough to suggest markets believe it can avoid a full-scale sovereign bailout.
Mariano Rajoy unveiled a package of savings and tax hikes worth €65 billion over the next 2-1/2 years, in a bid to demonstrate that Madrid can control its finances.
But market doubts have kept its debt costs elevated with 10-year yields again heading towards the seven percent tipping point. Spain's Economy Minister said Europe's debt markets were not functioning properly and investors outside the euro zone had no confidence in the euro as a project.
"There are no (debt) operations between nations in the monetary union and practically the only demand for Italian debt comes from Italians," Luis de Guindos was quoted as saying in Spanish newspaper La Vanguardia on Monday.
"A similar thing is happening in France and Spain."
Foreign investors have cut their exposure to Spanish and Italian sovereign debt, leading the states to rely more heavily on national banks to buy domestic paper, using ECB funding.
"This renationalisation of capital markets is very negative," de Guindos said.
Yields on Spain's short-term debt, using secondary market pricing as a guideline, are likely to be sharply lower than the last time it was sold at auction in June.
The yield on the 12-month bill was around 3.5% in secondary markets on Monday, down from an average of 5.074% last month, which was its highest in 15 years.
On the 18-month bill the yield was around 4.0% compared with an average 5.107% at auction in June, right after Spain sought a bailout for its ailing banks worth up to €100 billion.
"There are still massive risks that Spain will need a sovereign bailout," said Jo Tomkins, analyst at consultancy 4Cast. "It's got to a point where it's not just about austerity. People question whether Spain will be able to grow its way out of recession and produce revenue."
However, she expected the auctions to go well even if investors demand a stiff premium, forcing the Treasury to pay more than expected.
Domestic banks are expected to provide the bulk of the €2.5-3.5 billion it aims to sell, although analysts and market makers said they could be reaching a limit for absorbing sovereign bonds.
KEY BOND AUCTION
Analysts fear the austerity measures could backfire on the government, driving the country into a deeper recession, which would in turn reduce tax revenues and make it harder for it to hit deficit targets.
The short-term debt sale also comes before key auctions of up to 3 billion euros of medium- and longer-dated bonds from the Treasury on Thursday, when it will sell bonds maturing in 2014, 2017, and 2019.
Yields on Spanish 10-year debt dipped briefly last week after Rajoy outlined the new measures, but they have since risen around 15 basis points, leaving them close to 7%, a level seen as unsustainable in the medium term.
The Treasury has sold 65 percent of its planned medium- and long-term debt issuance for the year, having raced ahead of schedule at the start of the year when banks snapped up debt with cheap ECB liquidity.
But a higher deficit target for 2012, agreed with the EU, as well as a new mechanism to ease the regions' funding troubles, will force the Treasury to raise more money from investors than initially anticipated.