Spain capital outflow up 40 pct in June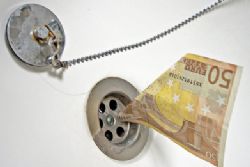 Spain saw close to a 40% rise in capital outflow in June, Bank of Spain data showed on Friday, as investor confidence in a country struggling to balance its public accounts eroded further.
The central bank reported that net capital outflow, not including central bank operations, was €56.6 billion in June, after an outflow of €41.3 billion in May.
A total of €315.6 billion of capital has left the country in the year to end-June, equivalent to almost 33% of the country's economic output.
In the first half of 2012 capital outflow was €220 billion.
Spain's economy entered a recession at the end of last year, and falling output and tax revenues will test the country's ability to cut its public deficit to meet EU demands.
One analyst said Spain's dire situation would be helped if the country calls for a rescue package to lower its financing costs, something the government is contemplating.
"The capital outflow is due to a lack of confidence from foreign investors in the country's solvency, and I hope this changes when the ECB starts buying debt," said Nicolas Lopez, economist at M&G Valores.
The ECB is expected to unveil details of its latest bond-buying mechanism aimed at helping to lower the financing costs of struggling euro zone states when it meets on September 6.
The data came as Spain's banks are awaiting the first instalment of a rescue package of up to €100 billion to help them to recapitalize, which should arrive in late September or in October.
The Bank of Spain also reported the country's current account registered a deficit of €257.2 million in June, versus a gap of €1.3 billion in the same month last year.
The trade deficit alone stood at €2.2 billion in June, versus €3.4 billion in June 2011 as the pace of increase in exports outstripped the increase in imports.