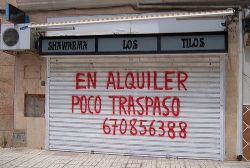 As soon as you have decided upon the type of enterprise that you wish to run and have thoroughly researched a suitable area, you will need to begin looking for the right business premises, or locales.
There are always lots of premises advertised privately via notices on empty buildings or, if you've been in Spain for some time, you may hear of premises by word of mouth, but this is only ever to be a trusted route if you have been in Spain a while and can speak the language and/or you are at least familiar with the procedures. On the whole it is advisable to use the services of a reputable commercial agent who deals specifically in commercial properties. At this point in your research, you should be familiar with the surrounding area and be aware of the main, reputable agents in the area. The next decision to make is whether you want to lease, rent or buy your chosen premises.
Freehold
Freehold premises in good locations don't come cheaply in Spain, so if you should come across one at a good price it is always worth giving serious consideration – of course subject to the recommended legal checks. As you might expect, freehold premises offer you more freedom, particularly regarding changing the property to suit your business requirements. It may also provide you with your own letting or leasing potential as a second income, but better still after the one-off purchase cost, there's no rent to pay. The process of buying a commercial property is exactly the same as buying a residential property.
Leasehold
By far the most popular method of securing business premises is through leasing a suitable property. There is a single payment to buy a lease, which includes fixtures and fittings (In addition to a further fee if it's an existing business you are buying). You are then obliged to continue to pay the landlord rent for the premises, but you are able to sell on the lease if you wish.
Up until fairly recently the Spanish have called this type of arrangement a traspaso (which means a "transfer" - as the lease is transferred from one owner to another) but this has now changed to be known as a cesión. A lot of potential Business owners – and even landlords themselves - are unaware that the law has changed and that a "Traspaso Contract" is no longer legal, so don't be surprised if this is still offered to you. Whichever contract you are offered it is advisable to make sure that as much detail concerning the full terms and conditions of the lease is made available to you in writing for your lawyers to check over before you sign or agree to anything.
The laws concerning a "cesión" are more fluid and open than for a "traspaso", meaning that there is room for negotiation between each party – but this can also lead to a lack of clarity. Your lawyer should check that you are not being offered a rental agreement posing as a lease, which will mean that you won't have any legal rights to sell the lease on to someone else. If you enter into a legal "cesión" contract then you are able to sell it on, but must give your landlord first refusal on this – and he will often also earn a 10 to 20% on any such sale.
If you should decide to buy a lease, either you or your lawyer should ensure that the seller has the legal right to sell it – cases have been recorded of Business selling on leases that they don't actually own !
On top of paying the sum agreed for the lease, you also need to pay a monthly rent to the landlord and the contract should clearly state how long the lease has left to run. Leases are usually between 5 and 20 years, but once again it is advisable to get your lawyer to push for the longest possible term. This is down to the fact that during the term of a lease the landlord can raise your rent only in line with the official rate of inflation (as published by the Spanish government). When your lease runs out, you can usually renew it automatically, but this allows your landlord to totally review (and almost certainly increase) the rental amount.
Rent
Although you will come across business premises to rent, they are not as popular as leasing. Renting does not have the large start up costs of a lease and has the flexibility to move premises if required. However, a rental contract does not offer the same rights as a lease and, if you should succeed in developing a profitable business in rented premises, there's always the danger that the landlord will decide not to renew your contract or to sell the property. Providing your lawyer negotiates your rental contract properly it may not be easy for your landlord to do this, as tenants in Spain have considerable. If you should proceed with renting, it is strongly recommended that you seek professional legal advice and check the terms of the contract carefully (especially the terms under which either party can terminate the agreement)
Your rental contract should contain all of your details, those of the landlord and a thorough description of the property. You will be required to pay a deposit of two months' rent and pay one month's rent in advance – and ensure that you get a signed receipt for any money that you do pay. The normal contract is for one year, and this should be clearly stated in the contract. Any such contract is normally renewed annually along with your rent, which for the first 5 years can only be increased only in line with the official rate of inflation as laid down by the Government.
If your landlord should decide to sell the property, as a long-term tenant you have the right of 'first refusal' (tanteo y retracto) to purchase it. The landlord should offer it to you in writing, noting the price and conditions of sale, before offering it out on the open market. If you don't reply or don't wish to buy, he has the right to sell it to whoever he likes. However, if he sells without offering it to you first, you have the right to have the sale invalidated and buy the property yourself at the same price.