Cecilia Giménez Sues For Royalties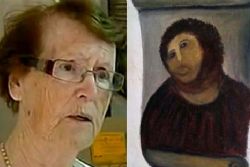 Cecilia Gimenez, the woman made famous for her botched restoration attempt on a century old painting of Jesus Christ (AKA 'Ecce Homo') is suing for royalties.
In a bizarre twist, the 81 year old granny and volunteer turned art restorer has got herself a lawyer and is pressing ahead with legal proceedings after the Sanctuary of Mercy Church which houses the humorous painting began charging admission.
Since Sunday, 16th September officials at the church began charging a €1 admission donation which as of today has amassed more than €2,000 for church coffers and looks set to earn more.
According to online newspaper El Correo, the failed restorer has suffered anxiety attacks and cannot leave her home for fear of abuse from tourists and art lovers who have descended on the sleepy town of Borja to catch a glimpse of her masterpiece.
A popular Irish airline is reported to be offering special price tickets to surrounding airports for anyone wishing to see the painting for themselves.
As if the saga didn't need any more publicity, the internet sensation and viral hit looks set to remain one of cyberspaces most viewed and read about stories of all time.