Spain "not pressured" into bailout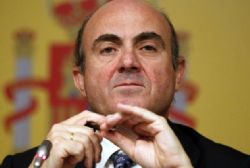 Minister for the Economy, Luis De Guindos, yesterday said how nobody has pressured Spain to request a new finance rescue and the country's treasury is "well financed" for this year.
"Spain is doing all the possible effort to clean its bank system and to make all the necessary budget adjustments," said De Guindos, who is taking part in the G20 Finance Ministers and Central Bank Governors held in Mexico City.
"There hasn't been any kind of pressures, and there won't be. The government could not accept them," De Guindos said at a press conference, reaffirming the position of Spain's PM Mariano Rajoy of not requesting international support to pay the country's debts.
The minister said Spain has a situation of "relatively loose liquidity" for the rest of the year.
De Guindos therefore rejected that Spain will request in the short term a new rescue, as some sources from G20 recently said.
In the last days, European sources affirmed Spain could appeal to a bond-buying program from the ECB to clean its finances.
The ECB finally offered a €100 billion aid package to clean up Spain's trroubled bank sector, after in the last half year several financial institutions in that country recognized lack of liquidity.
The Spanish government analyzes all the implications, said De Guindos, "and when it considers it's proper, it will take a proper decision." Spain is suffering its second recession in the last 3 years, where unemployment is higher than 25%.