Bankia Foreclosures up 19% in 2012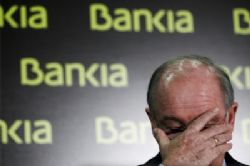 The real estate arm of bailed-out Spanish lender Bankia said it raised €550 million in 2012 from selling foreclosed properties, 19% more than in 2011, as tax breaks fuelled a year-end rush.
Bankia Habitat said on Tuesday it had independently sold 1,100 such properties in December alone, 70% more than in November, and just before the bank had to move €22.3 billion of rotten real estate assets to a so-called bad bank.
The bad bank, known as SAREB, was set up as a condition for four of Spain's nationalised lenders, including Bankia, to receive €37 billion in EU aid last year, after they were hit by a property crash dating back to 2008.
SAREB took the foreclosed assets at an average discount of just over 63%. Bankia Habitat said it had sold properties in 2012 with price reductions of between 40 - 60%.
The group said that the year-end sales were also helped by tax breaks on housing purchases which ran out in 2013.
SAREB also did not take foreclosed properties valued at less than €100,000, or property loans of under €250,000, assets which remain in Bankia Habitat, within the Bankia group.