"Spain is on the right track" : ECB Chief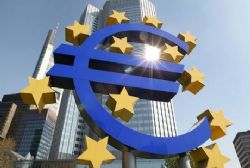 European Central Bank chief Mario Draghi said on Tuesday Spain was on the right track towards economic recovery and he saw several positive signs.
Draghi made his remarks during a news conference at Spain's parliament after addressing members of parliament during a closed-door session.
The Prime Minister of Spain, Mariano Rajoy met with Draghi at 4 p.m. at his Moncloa Palace address in Madrid after he speaking to lawmakers and reporters, where he confirmed that Spain has taken unpresedented steps in tacking its budget deficit during 2012.
Despite congratulating his ruling Partido Popular Government on this, he did not give any supporting fiscal data.