Rajoy wants growth, without letting up on austerity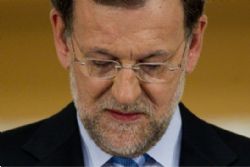 Mariano Rajoy pledged on Wednesday to pull Spain out of its painful recession without relaxing his drive to cut the country's high public deficit.
He struck a difficult balance that may please neither voters, who are fed up with austerity, not Spain's European partners, who did not get from him the new reform agenda they have been seeking.
In his first state-of-the-nation speech since taking office in December 2011, Rajoy said the deficit had dropped below 7% of GDP last year, still above the EU's short-term target.
He also announced new incentives for employers to hire young people - youth unemployment is 56% - and cut taxes for small- and medium-sized companies.
At the same time, he told parliament he would remain strict on deficit cutting while implementing tough reforms to the labor market, financial system and public finances.
But he fell short of meeting demands from the EU and ECB to lay out an ambitious legislative plan of further structural reforms to the economy.
Rather than beginning his speech to parliament with a list of accomplishments, Rajoy went straight to the heart of the country's deep economic crisis, recognizing the human suffering caused by a 26% unemployment rate.
"The first objective of this government is to turn around this situation... The reality is terribly hard, no green shoots or passing clouds or early spring," Rajoy said.
But there would be no let up in the austerity that has prompted mass protests.
"To those who are asking for relaxation, not a minute of relaxation or calmness. This has just started. The road to creating jobs is a long one," Rajoy said.
BUDGET GAP
Spain's economy is expected to shrink in 2013 for a 2nd year in a row. Although exports have jumped, retail sales have fallen for 30 straight months as spending cuts and high unemployment have hit domestic demand.
But Rajoy said he would stay vigilant on deficit cutting, repeating his mantra, a line he uses in every single one of his public speeches: "You can't spend what you don't have."
Rajoy said that thanks to unprecedented spending cuts and tax hikes Spain had managed to reduce its public funding gap by more than €21 billion in 2012.
He said the 2012 public deficit would come in at under 7% of GDP, a figure that would be taken positively given the economic context even though it would miss a EU-agreed target of 6.3%.
Although borrowing costs for Europe's 4th-largest economy and the likelihood of a sovereign bail-out for Spain have receded since the ECB said it would act as a backstop to bets against the euro, analysts believe Spain will also miss its deficit goal of 4.5% of GDP in 2013.
The European commission will publish updated economic forecasts for the EU's 27 economies on Friday.
It has said some countries could be given some flexibility in their deficit-cutting efforts in return for a strong commitment on structural economic reforms. Spain is widely expected to be one of those countries. Spain has already been given an extra year, until 2014, to meet Europe-agreed goals of a deficit of under 3% of GDP.
The country has sold close to 20% of the mid- and long-term debt it needs to fund its budget and debt obligations this year, and on Wednesday had received over $2 billion offers in its first dollar-denominated bond since 2009.
PROTESTS
While Rajoy spoke in parliament, thousands of prosecutors and judges held a one-hour work stoppage to protest new fees members of the public must pay for legal services such as filing a lawsuit, and cost cutting in the justice system.
Around Spain there are daily demonstrations against spending cuts in health and education, and against a €40 billion rescue of failed banks that taxpayers will have to bear. A major demonstration is expected on Saturday in Madrid.
In his address on Wednesday Rajoy, whose Partido Popular has been hit by a corruption scandal, pledged to pass tougher sentences for people convicted of corruption crimes, and said he would soon propose new rules for political parties' finances.
He has resisted calls to step down after the El Pais newspaper reported that a former treasurer for the PP had operated a slush fund out of the party offices, distributing secret cash donations to Rajoy and other party leaders.
Rajoy has denied any wrongdoing and signaled in his speech on Wednesday that he would not shuffle his cabinet to try to combat public perceptions of corruption in his government.
"No improvisation, no abrupt announcements, no imprudence and no impatience in my program," said Rajoy, famous for his ability to resist pressure to act when he doesn't want to.