Spain to veto Scotland entry to EU ?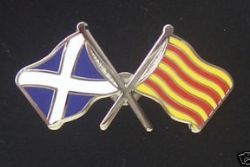 A Catalan nationalist MEP has challenged claims by a European Parliament vice-president that Spain could veto an independent Scotland's membership of the EU.
Ramon Tremosa, of the Democratic Convergence of Catalonia party, suggested Spain could try to block Scotland's membership to quell separatist ambitions from the Catalans and the Basques but it would not be successful.
European Parliament vice-president Alejo Vidal-Quadras has said France and Spain "will surely not" accept an independent Scotland into the EU.
Mr Vidal-Quadras, an MEP from Catalonia who opposes the region's independence from Spain, also suggested that police would confiscate ballot boxes if Catalonia holds its own "criminal" referendum.
Mr Tremosa said Mr Vidal-Quadras is unpopular in his own party, is destined for defeat in next year's MEP elections and does not speak for the European Parliament.
There would be uproar from the international community if Spanish police confiscate Catalan ballot boxes, Mr Tremosa said.
"Oxford University professor Graham Avery, a former director general of the European Commission, said there would be a fast track for Scotland to negotiate from inside the EU. Scotland is not Turkey. As a pragmatic union, the EU dealt with the unification of Germany in one week," Mr Tremosa said.
"Scotland has several years' compliance with EU law and citizens with EU rights. You cannot take away rights from citizens who for decades have been joined (with the EU).
"If there is a political will, it will not be a problem. Europe has an interest in solving it quickly, so the national interests will go in that direction in my opinion."
Spain could not block Scotland's membership if its views are in the minority, he said.
"Maybe there will be the intent of a boycott by Spain but I don't imagine many other countries vetoing the access of Scotland if England agrees to it."
Mr Vidal-Quadras said earlier that EU member states with separatist movements will not accept an independent Scotland.
"France and Spain: surely not. The UK: probably not," he said.
If Catalonia holds an independence referendum, Spain's central government "would take the ballot boxes away by the police because it will be criminal offence", Mr Vidal-Quadras said.
But Mr Tremosa said: "This is not a picture of the 21st century. This photograph would be seen all over the world and would not give a good image of Spanish democracy.
"I hope we don't arrive at this point but if we do, I think Spain would have a problem in the international community and this would strengthen the Catalan predilection for freedom because we are not only talking about sovereignty but quality of democracy.
"The Spanish press do not say anything on this. The Spanish population lives under censorship and propaganda, and they do not receive any information from what is happening in Catalonia and the arguments that we have on the table.
"But the international community is starting to say to the Spanish people that you cannot ignore these issues of nationality which are largely supported in Catalonia, much more than in Scotland."
A Scottish Government spokeswoman said: "The future of Scotland is a democratic decision for the people of Scotland, not for politicians from other countries."