Taxation agreement signed between Spain and Uzbekistan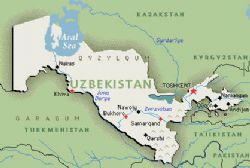 Spain has signed an agreement with Uzbekistan to cover the avoidance of double taxation and prevention of tax evasion, according to a statement issued today by the Uzbekistan State Tax Committee.
The agreement was signed during the visit of the Uzbek delegation to Madrid with the Chairman of Uzbekistan's State Tax Committee Botir Parpiev and Secretary of State for Finance, Miguel Ferre being signatories.
"The signing of this type of international agreement creates a number of benefits in economic, legal and financial terms. Specifically, the agreement will strengthen the investment cooperation between the two countries and create a good legal framework for future projects," the statement said.
Under the agreement, Uzbekistan and Spain will exchange information on tax issues., with each country also carrying out an exchange of banking information.
The document will come into force 3 months after fulfilling all the necessary internal legal procedures between Uzbekistan and Spain.