Spain lays claim to invention of Coca-Cola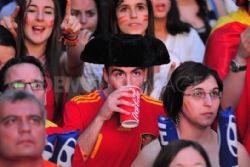 The origins of one of the most instantly recognisable and iconic brands on the planet is being challenged by a small Spanish town.
The town of Aielo de Malferit in the province of Valencia may have a population of less than 5'000, but looks likely to put in a serious claim to be the originator of Coca Cola.
Employees of the factory producing 'Nuez de Kola Coca' - an alcoholic version of the soft drink - say the recipe for the world-famous cola was invented here and are hoping to set the record straight.
The story goes that 3 locals founded the factory in 1880 and began producing drinks from the fruit of kola nut trees and the leaves of coca plants. Their drinks started winning innovation prizes around the world, including one for 'Kola Coca' in Philadelphia in 1885. "Perhaps it was coincidence, perhaps it wasn't-but just one year later, US pharmacist John Pemberton made history when he invented Coca-Cola," an article in Der Spiegel reads.
The current owner of the Spanish factory fails to see any coincidence "It was easy to copy a beverage in those days." The companies kept on their separate paths until 1953, when Coca-Cola moved into Spain, bought the rights to "Kola Coca" for a relative pittance and allowed the Spanish company to keep producing only an alcoholic version. Today the Spanish factory retains just 4 employees and probably won't last another generation. "After that, this chapter in history will probably come to an end once and for all," says the owner.