Novagalicia to return funds to mortgage holders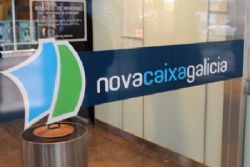 Nationalized lender Novagalicia (NCG) said Monday it would return €39 million in mortgage payments made by some 90,000 clients after deciding to eliminate so-called interest-rate floor clauses from its home loan contracts.
Floor clauses limit the extent to which borrowers can benefit from decreases in the benchmark used to set variable-interest mortgages, which in the case of Spain is normally the one-year Euribor rate.
NCG took the decision to eliminate such clauses in July, backdated to May 9, when the Supreme Court ruled that they lacked the transparency required by the law within the context of a mortgage contract as a whole.
NCG said of the €39 million to be returned to customers, €19 million will be in the form of cash and the remaining €20 million in the form of a reduction in outstanding principal on loans.
NCG has calculated that removing floor clauses will cost the bank some €48 million this year, the equivalent of 6.7% of its net interest income in 2012.
The move affects 49% of home loans granted by NCG to individuals involving a total amount borrowed of €6.6 billion.
A number of other banks, including BBVA and Cajamar, have also agreed to remove floor clauses from their mortgage contracts in the wake of the Supreme Court's ruling.