Spain's Hospital waiting list now longest on record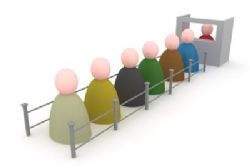 Waiting lists for surgery in Spain's state-run hospitals were the longest on record in 2012 as emergency spending cuts hit home, according to latest Government figures.
Data for December 2012 released this weekend by the Ministry of Health revealed how the average waiting time for a non-urgent operation stood at 100 days, up from 76 days in June of that year.
This was the longest ever waiting time by some margin, and the sharpest rise since records began in 2004.
Data also showed how 571,395 people were on the waiting list in December 2012, up from 536,911 in June and from 459,885 in December 2011 when the Partido Popular took office.
In December 2008 - the first year of the financial crisis - the number of people on the waiting list stood at 364,397, with the average waiting time being 71 days.
Last year the Government imposed cuts to both health budgets and staff numbers as part of a program to save tens of billions of euros which it says will strengthen Spain's public finances.