Santander Sells Spanish Property Unit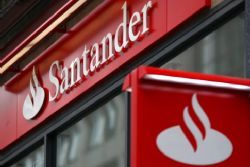 Banco Santander, Spain's biggest bank, sold its real-estate unit to Apollo (APO) Global Management LLC for €664 Mln.
An Apollo fund acquired 85% of Altamira, which manages foreclosed assets and handles loan recoveries in Spain, Santander said in a statement in Madrid today. The bank, which retains the loans and real estate, posted a gain of €550 Mln, or €385 Mln after tax, on the assets held.
Foreign investors are seeking profits in Spain as it emerges from the economic slump prompted by the collapse of the property market in 2008. Apollo, the New York-based buyout firm run by Leon Black, last year agreed to buy Evo Banco from nationalized lender NCG Banco and FinanMadrid from state-owned Bankia group.
Latin American investors are also moving into the Spanish banking industry, which was saddled with €180 Bln of soured assets during the crisis. Banesco Group, controlled by Venezuelan billionaire Juan Carlos Escotet, bought NCG Banco last month, following Colombian billionaire Jaime Gilinski's investment in Banco Sabadell.