Spain's Anti-Abortion Protestors Gather in Madrid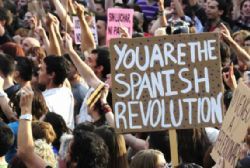 Opponents of Spain's controversial proposed changes to access to abortion have gathered on the streets of Madrid this morning.
Thousands of protestors arrived in the capital from various towns and cities across northern Spain, whilst smaller groups are also expected to swell their numbers from other cities across Europe.
The group are opposed to PM Mariano Rajoy's announcement at the end of 2013 that it would overturn the 2010 law of the previous PSOE administration that allowed women to opt for abortion during the first 14 weeks of their pregnancy.
The proposed changes - yet to receive Parliamentary approval - would restrict access to abortion to just cases of rape or where there was a risk to the physical or psychological health of the mother.
However, opposition to the Spanish reform is not restricted to Madrid, with groups planning to increase awareness of the Spain's 'backward step' by holding similar demonstrations of the streets of London and Paris. This follows similar action in Brussels last week.
Mariano Rajoy's Partido Popular government has repeatedly postponed the abortion reform - a promise of his 2011 election manifesto - after finding opposition within his own party.
However, more than 2 years from taking office, the Conservative PM has increasingly come under pressure from Catholic leaders to reduce the upward trend of numbers of abortions taking place in Spain.
Whilst the Ministry of Health claim that around 118'000 procedures were carried out in 2012 - up form 113'000 the previous year - those in opposition to the reforms question the accuracy of these statistics.
Read the entire archive of Spain's proposed abortion reforms by clicking the link > HERE <