King Juan Carlos Makes First Official Visit Abroad After Op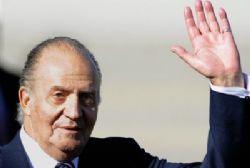 Tuesday saw King Juan Carlos resume his official agenda abroad with a state visit to neighboring Portugal.
The king and Queen of Spain attended a dinner in Cascais with the Presidents of Portugal, Anibal Cavaco Silva, and of Italy, Giorgio Napolitano, and their respective wives.
The King made his first visit abroad following his latest hip operation last year, in order to represent Spain in the 9th COTEC Europe Meeting in Lisbon.
The event was originally planned for last November but was postponed to allow the Spanish King time to recover from his operation.
Before the dinner, the king met in Lisbon with Portuguese ex-President Mario Soares, with whom he has maintained excellent relations since Spain's transition to democracy in the 1970s.
A delegation of business leaders - 45 of them Spaniards – taking part in the COTEC forum will debate the commitment of Spain, Italy and Portugal to reindustrialisation as a means of boosting their economies, thereby creating jobs for professionals and other skilled workers.
Before the king, Napolitano and Cavaco Silva give their speeches, those addressing the meeting will include European Commission Vice President Antonio Tajani and the heads of COTEC in Spain, Italy and Portugal.
The COTEC Foundation for Technological Innovation was created in Spain more than 20 years ago by a group of entrepreneurs following a suggestion by King Juan Carlos after he visited the USA in the late 1980s and observed the positive effects of innovation on economic growth.