Spanish property fund attracts tycoons ahead of share listing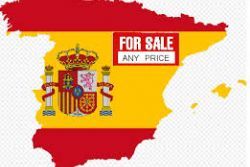 A Spanish property investment vehicle set to list shortly on the stock exchange has raised €314 Mln from investors including U.S. fund managers George Soros and John Paulson, according to a regulatory filing on Monday.
Foreign investors have been flocking to Spain in search of bargains as the country emerges from a prolonged recession, and the battered real estate sector in particular is attracting funds after prices slumped around 40% since 2007.
Hispania, a vehicle which will be managed by Spanish investment firm Azora, aims to raise €500 Mln in total through its Madrid flotation, which it will then use to invest mainly in residential property, offices and hotels in Spain.
The investment secured so far means it has already reached over 60% of its target. It is aiming for returns of over 15% for investors, according to a prospectus filed with Madrid's stock exchange on Monday.
Real estate investment trusts (REITs), or SOCIMIs in Spanish - listed vehicles that usually invest in income producing assets - are only just taking off in Spain, where the government has had to introduce new rules and shake up the rental market.
But they are common in other regions such as the United States.
Hispania will have a complex structure whereby investors will be stakeholders in a company that is not strictly a REIT, but which will own one.
That will allow it to get around REIT restrictions and invest in different types of assets through the parent company, including property debt, which many banks have been shedding.
"With this formula Hispania will be able to buy loans, stakes in companies - we think the market is ripe for this right now," said Fernando Gumuzio, co-founder of Azora, which is the biggest manager of social housing in Spain.
Billionaire financier Soros, who recently bought shares in Spanish builder FCC, is among the cornerstone investors in Hispania. Quantum Strategic Partners, managed by Soros Fund Management, is putting in €92 Mln, according to the prospectus.
Quantum has also recently invested in Italian real estate, which has been hit hard by a deep recession too.
Paulson & Co, founded by billionaire John Paulson, is also investing €92 Mln in Hispania.
U.S. hedge fund Moore Capital Management and real estate investment specialist Cohen & Steers are among the investors which have already signed up.
A fund owned by Azora - which is chaired by former Goldman Sachs partner Juan del Rivero - and members of Hispania's management are also investing in the vehicle. Including these commitments, the funds raised so far stand at €326 Mln.
Hispania is due to start trading on March 19, and could grow to €550 Mln if an option to increase the offering is exercised. UBS and Goldman Sachs are advising on the offering.