Rescued Spanish bank BMN eyes stock market sale from 2015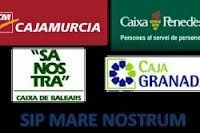 State-backed Spanish lender Banco Mare Nostrum (BMN) will start working on a stock market listing next year, joining other banks that are trying to repay taxpayers' money.
The bank, which was among Spanish lenders bailed out after a property market crash, has until early 2018 to return to private hands under the terms of its rescue but said it aimed to start the process sooner.
"We're going to return to the market from 2015, and I'm convinced we will return all of the public aid (we took)," Chairman Carlos Egea said on Wednesday at a conference in Madrid. Spain took a €41.3 Bln rescue package from Europe in 2012 to help its weakest banks, including BMN.
Rescued banks have this year started returning some of the state aid they took as Spain's economy emerges from recession and private investors buy into their recovery.
Spain sold part of its majority stake in Bankia, the largest bailed-out bank, earlier this year, turning a small profit. Meanwhile Liberbank said last week that it was planning a €500 Mln rights issue.
BMN is 65% government-owned, with the rest controlled by regional savings banks. It needed €1.65 bln in state aid overall, in several phases.
Like peers it is also shedding assets, including its property management unit, which it has just sold to Aktua, a loan servicing company owned by U.S. investment firm Centerbridge Partners.
BMN said on Wednesday that the deal - which includes a contract for Aktua to handle the unit's €7.6 bln worth of property assets such as loans and housing - was worth €50 mln.
Spain is unlikely to recover all the funds poured into its banks, however, as some nationalised banks were sold for a fraction of what it cost to rescue them.