Spain Said to Lead EU Push to Force Terms on Greece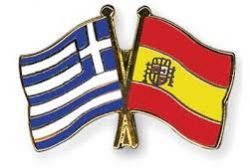 As euro-region finance ministers turned the screw on Greece in Friday's talks, the group's usual enforcer, Wolfgang Schaeuble of Germany, was eclipsed by Spain's Luis de Guindos, according to two people with direct knowledge of the talks.
De Guindos took the toughest line with Greek Finance Minister Yanis Varoufakis as the bloc forced him to adhere to the terms of the country's existing bailout to retain access to official financing, the people said, asking not to be named because the conversations were private. When the group rejected Schaeuble's call for a Tuesday meeting to scrutinize Greece's plans to meet those conditions, De Guindos insisted, winning agreement for a teleconference, they said.
The Spanish government is particularly sensitive to the fortunes of the Syriza government in Greece because the party's Spanish ally, Podemos, has surged to the top of some recent polls. A victory for Varoufakis would have strengthened Podemos's argument that De Guindos's boss, PM Mariano Rajoy, was wrong to impose austerity on Spain.
The Spanish government "has always been constructive but it has to defend its interests," Guindos said on Friday. "A climate is developing in which the new Greek government is adapting to the rules that affect us all."
A spokeswoman for De Guindos said his ministry disagrees with the characterisation of the content and tone of the conversation. Spain is in favor of dialogue and flexibility within the existing rules and has shown its solidarity with Greece by contributing EU26 Bln to its bailout at a time when its own financing conditions were not good, she said.
Struggling to fend off a sovereign default, the Greek government acceded to European demands that it respect the conditions of its existing bailout package at Friday's meeting in Brussels. The Greek government must submit a list of economic measures it will undertake by Monday and finance chiefs will then decide whether the proposals go far enough.
Dijsselbloem Successor
De Guindos, at times raising his voice, railed against Varoufakis in Friday's meeting, telling him he has to win the trust of his euro-region counterparts and learn how politics is conducted at the European level, one of the people said.
De Guindos's ministry denied that there was shouting or that the economy minister raised his voice, according to a spokeswoman.
De Guindos has been in the running to replace Jeroen Dijsselbloem of the Netherlands as head of the euro-region finance ministers' group when the Dutchman's term expires this year.
Spain's general election is due around the end of the year and Iglesias has pledged to restructure the country's EU1 Trillion of public debt if he wins.
Recommended Reading :
* Spain : "There are red lines for agreement with Greece"
* Spain "Can't afford to write of Greek debt"