Spain 'Can't afford to write off Greek debt' : Rajoy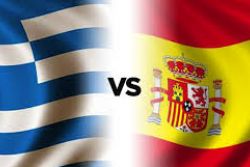 Spanish Prime Minister Mariano Rajoy told Journalists this week how his Government expects the new Greek administration to start to repay the EU26 Billion loan extended to them.
Rajoy made the comments following the meeting of the European Council on Thursday.
"They will start paying this loan in 30 years time, so the conditions are fantastic. They will pay interest in 10 years time," Rajoy said. "The important thing is that Greece - which already started growing -sticks to the rules and the commitments they signed up for in exchange for loans".
The inference that Spain may write the loan off was brushed aside by Rajoy : "Spain doesn't have the cash to spare", he added.
Recommended Reading :
* Rajoy : "Spain is the sick man of Europe"