Spain sees February unemployment fall at lowest rate since 2001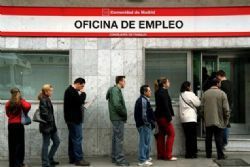 The number of unemployed people registered with the public employment services in Spain decreased in February by 13,538 people, bringing the total figure down to 4.51 million, marking the largest monthly decline since 2001.
According to data released on Tuesday by the Ministry of Employment and Social Security, dated back to the same month of 2014, unemployment fell by 300,333 people, also marking the largest annual decline since 1999.
The number of unemployed males fell by 19,857 people to reach 2.12 million, while female unemployment increased by 6,319 people to reach 2.39 million.
Unemployment among those aged less than 25 years also increased in February by 2,569 people.
At the same time, since January, recipients of social security rose by 96,909 people in February, totaling 16.67 million.
According to data released on Tuesday by the Employment and Social Security Ministry, these statistics are the most promising since 2007, the year in which the economic crisis began in Spain.
Recommended Reading :
* Spanish unemployment gets off to worse start in 2015 than 2014
* Spanish Economy confirmed to have increased 1.4% in 2014