Spain sees property prices up 1.8% in Q4 2014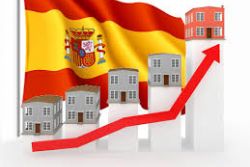 Spanish housing prices rose by 1.8% in Q4 last year when compared with the same period of 2013, according to data unveiled Monday by the National Institute of Statistics (INE).
The figure marked the first increase at year end since the financial crisis started in 2008, when the housing bubble burst and prices started falling.
Prices decreased 1.5% in 2008 on an annual basis and continued to fall in 2009, 2010 and 2011, when they fell by 6.7%, 2.0% and 7.4%respectively.
The most significant price decreases were registered in 2012 and 2013, when housing prices fell by 13.7% and 10.6%, respectively.
The INE reported that prices of new houses increased by 1.9% of Q4 2014 in comparison with a year earlier, while prices of previously-owned houses rose by 1.7%.
From Q3 2014 to Q4, housing prices increased by 0.2%, with prices of new houses falling by 0.1% and prices of used houses increasing by 0.3%.
Recommended Reading :
* Spanish house prices last year rose for first time since 2008
* Spain property prices expected to stabilize late 2015