Spain's narrows budget deficit in 2014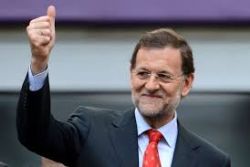 Spain's budget deficit narrowed dramatically last year, the country's government said Friday, meeting the target agreed with the European Commission for the first time since the start of the country's property bust in 2008.
Deputy PM Soraya Saenz de Santamaria said the eurozone's fourth-largest economy posted a deficit equivalent to 5.7% of GDP, slightly below the commission's target of 5.8%-of-GDP deficit.
Ms. Saenz de Santamaria said budget cuts and economic growth both helped Spain bring the deficit in line with government commitments. The economy grew 1.4% in 2014, the first year in which it expanded since 2008, slightly above the commission's and the government's projections.
In 2013, Spain's deficit had stood at 7% of GDP, compared with a 6.5%-of-GDP agreed with the commission.
The improvement in Spain's fiscal picture is also because the government didn't earmark any funds to bailout the country's banking sector, after 2 years in which the EU injected the equivalent of 4.3% of Spain's GDP into the country's banks (3.8% in 2012, 0.5% in 2013), inflating the country's government debt and deficit in the process.
Recommended Reading :
* Regional GDP Growth uneven in Spain