The convenience of living in the Pueblo, combined with the charm and relative good value of an older property, can often mean that buying and restoring a Spanish Townhouse are attractive to foreign buyers. Quiet often this can be the case, but we asked Mark Paddon from Survey Spain what things a potential buyer of such a property should be aware of.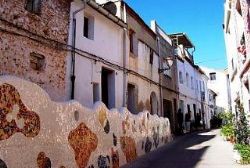 Many buyers opt for an older town house purchase, which can be a cheaper way to own plenty of living space, often full of character. Itís important to note however that some properties are also full of wood boring insects and damp. A complete renovation will normally be costly and hence reflected in the asking price, but some faked up examples may look OK on the surface, while hiding a multitude of sins underneath.
1.) Always check exposed beams for signs of insect attack (often small holes of 1mm diameter and/or larger holes of around 3mm). If beam ends are friable, whatís hidden in the walls is normally worse. Surface treatment alone will rarely stop attack.
2.) If ceilings have been boarded over be cautious! most Spanish and north European owners prefer exposed beams, so if they have been covered up it may be for good reason.
3.) Check other timber elements such as windows and doors for attack, if they have been replaced past infestation may have been extensive and other hidden timbers such as lintels may still be infested.
4.) Check lower walls and attic level ceilings for damp and staining. Most original roofs leak, and despite the dry Spanish climate leaking drains and water pipes are a common problem in towns, giving a constant supply of water to the ground.
A full survey will involve many other checks including a damp meter inspection. If you have any doubts, get the property inspected by a professional.
Note : A new law (Ley 16/05 de la Generalitat Valenciana), which is shortly to be enforced in the Valencia community, requires a technical inspection of properties over 50 years in age, where in larger populations. You should be aware that following such an inspection, (e.g. if serious defects such as rotten beams exist), this may result in an order from the local town hall to repair or potentially demolish the property (in serious cases of neglect that render the structure prone to collapse). The inspections need to be repeated every 5 years and this will probably mean that it may not be viable to simply hold on to a decayed older property until as and when funds are avialable to renovate it and that prompt attention might be enforced under law.
As with most new regulations, there may well be some protests when enforcement starts to take place (and perhaps some fine tuning). I am really not sure quite how viable such a scheme is. Whilst checking for unsafe buildings will no doubt save some lives, it will also disrupt many more and cause financial difficulties for those that simply do not have funds to put things right.
Article supplied by Mark Paddon BSc Hons Building Surveying. MCIOB. FAS. CAAT. Click here for further information and contact details.