Spain's anti-austerity Podemos neck-to-neck with mainstream parties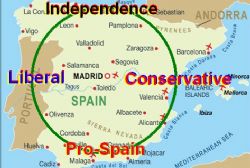 Spain's anti-austerity Podemos would win an election by a razor-thin margin if it were held now, a poll showed, but the new leftist party has lost some support in recent months and is running virtually neck-to-neck with the two mainstream parties.
Podemos ("We Can") surprised by taking 5 seats in elections for the European Parliament last May, just months after its formation, demonstrating how austerity-weary Spaniards were turning away from establishment parties.
Podemos led the poll carried out by Metroscopia for El Pais newspaper for the 4th month in a row, garnering 22.1% support. However, the opposition Socialists regained lost ground to come second with 21.9% of the vote.
The ruling conservative Partido Popular would come 3rd with 20.8% of the vote, Sunday's poll showed. Centre-right newcomer Ciudadanos would come 4th with 19.4%.
Support for the centre-right, market-friendly newcomer Ciudadanos ("Citizens") has steadily grown in the last few months, sucking votes from the other parties.
The next national election is expected towards the end of this year.
Podemos and Ciudadanos made substantial inroads in local elections in the southern, populous region of Andalusia in March, foretelling a shake-up in the nationwide vote as new parties capture voters impatient to benefit from an economic recovery.
The PSOE and the PP, who have dominated power nationally for decades, came first and second in the Andalusia elections, albeit with less support from the last election in 2012.
At a political rally on Saturday, PM Mariano Rajoy warned against populism while stressing the economic turnaround Spain had experienced over the past year to make it one of the fastest growing economies in the euro zone.
The Spanish economy has been consistently surprising on the upside since it emerged from recession in 2013, but the recovery has yet to filter down to many Spaniards. Nearly one in four of working-age people remain without a job.
Metroscopia's poll was based on interviews with 1,000 people from Apr. 7 to Apr. 9.
Recommended Reading :
* Rajoy to seel reelection as Spain's PM in 2015
* Rajoy's Adviser : "No election spending spree in Spain"